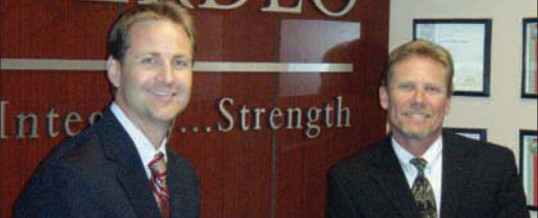 BY: MEGAN WOOD
GRANITE BAY VIEW
Investments, mortgages and 401K's might all be Greek for some, but for brothers Shad and Cary Long, founders of Verdeo Capital Group, it's all part of the business.
And to be completely accurate, it's Latin.
Verdeo translated from Latin means truth and strength, two principles around which the brother team have centered their business.
"We believe in trust in each other, in our investors and clients. They trust us and we want to give that same trust back to them," said Shad, the younger of the two. "And this builds strength in our community. It's what we hope to do and show and the business motto we live by."
The Long brothers grew up in a section of Loomis that is now considered Granite Bay and fondly remember attending Franklin Elementary and Del Oro High School until the family relocated to Southern California in the early '80s.
Cary had been raised learning the ins and the outs of the family mortgage business and decided to follow in the tradition. Starting at the bottom, Cary took positions in every possible capacity before becoming president of a large private banking and lending institution.
Meanwhile, Shad graduated from the University of New Mexico and was busy making headway as a stockbroker. Having received training from Prudential Securities in New York and later from UBS-Paine Webber, Shad built a rapport with numerous investors before joining forces with his brother.
With Cary at the top of his career and Shad not far behind, the brothers decided to pull their talents together to create their own private lending firm in a community that they said needed it.
That led them to Granite Bay.
"I was at a time in my life when I could have moved anywhere in the country. I chose Granite Bay," Cary said. Part of his decision also stemmed from the fact that Cary had promised his wife, also a Granite Bay native, they would move back to the area by 1987 and it was 2005.
Shad said the high quality schools in Granite Bay were a major draw for his young family as was the tight knit community he remembered as a child.
Cary said they saw a need in the community for a private lender with flexible financing and lending options for those who don't always meet the requirements set forth by a bank. They also saw a demand for investment opportunities among the Granite Bay community.
Many advise against family, let alone two brothers going into business together, especially one like investing and mortgages.
"We were told it was a risky move, a one in a million chance it would work out," Cary said.
However, both said they've found that being brothers has strengthened their trust with each other as opposed to just being business partners.
"I know that with (Cary), the job will get done," Shad said. "And it will be right, every time. I know that where I leave off with a client, he can pick it up and move forward seamlessly."
The brothers say they strive to show and return that trust and integrity to their clients by providing hands-on personalized service tailored to their clients' individual needs.
"Of all the places where people can invest not only their money but their trust, our clients chose us," Cary said. "That's an honor and something to be protected, it's a two way street. It has to be."
Share